The Lancaster County labor force and non-farm employment increased again over the month, adding 100 new workers and 1,800 jobs. The Lancaster Metropolitan Statistical Area (MSA) ranked 3rd lowest in the state in unemployment rate, remaining unchanged at 3.4%.
There were over 15,000 positions posted online for jobs in Lancaster County in June 2022. The top 10 openings and their average hourly wages include:
Retail Salesperson ($15/hr)
Supervisors of Retail ($16.20/hr)
Registered Nurses ($33.30/hr)
Stockers and Order Fillers ($16.40/hr)
Heavy and Tractor Trailer Drivers ($27/hr)
Maintenance and Repair Workers ($22.50/hr)
Fast Food and Counter Workers ($13.50/hr)
Supervisors of Food Prep ($18.70/hr)
Medical and Health Managers ($25/hr)
Janitors and Cleaners ($15/hr)
Employment continues to trend upward, however the Lancaster workforce is experiencing a 7,400 shortfall of non-farm jobs compared to January 2020, three months before the pandemic took a devastating toll on our economy. The chart below shows the employment recovery trends. Please note, these jobs include commuters who may reside outside Lancaster County.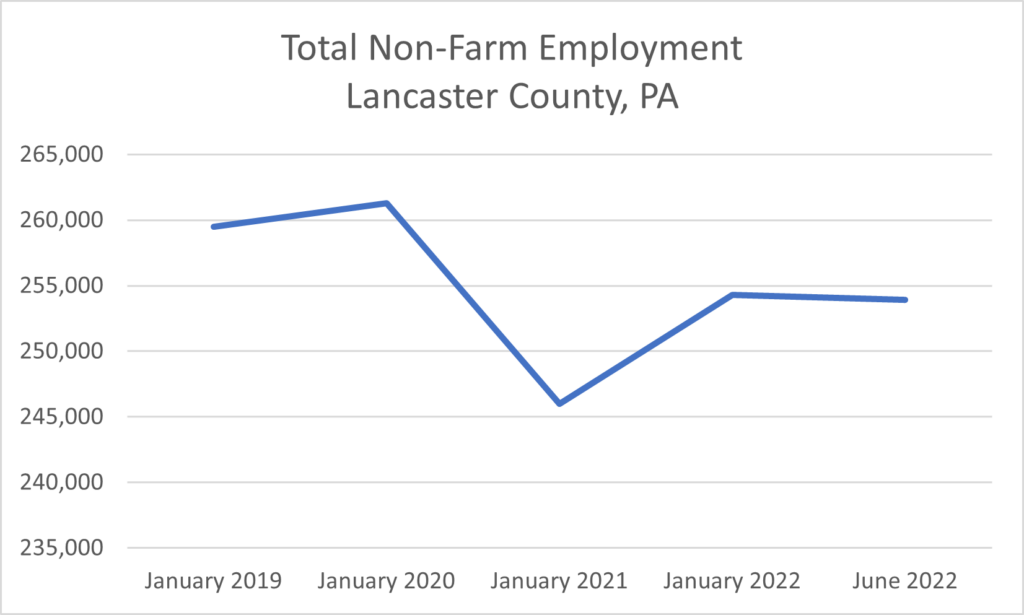 The Center for Workforce Information and Analysis (CWIA) also recently updated the state's High Priority Occupation List. High Priority Occupations (HPOs) are one component of Pennsylvania's industry-driven approach to workforce development. The purpose of the HPO lists is to align workforce training and education investments with occupations that are in demand by employers, have higher skill needs and are most likely to provide family sustaining wages. Combining statistical data with regional expert input allow for a complete picture of the actual workforce needs of the commonwealth. The updated list can be found here.
For more information, view the Workforce Information News Release and the Civilian Labor Force Packet for June 2022. To view the most up-to-date demographics, wage, and unemployment information, view the Lancaster County Profile.