A year-over-year comparison shows great strides in our workforce recovery. While the total Labor Force Participation (LFP) is 300 workers shy of July 2021, the true testament of our workforce system and economic health lies in the unemployment numbers. Last year at this time, over 14,000 Lancaster residents were counted in unemployment numbers, with a rate of 5.1%. While the difference in our overall LFP is slight, the number of individuals shifting from unemployment to employment is drastic at a 66% change.
Key industries have experienced growth over the last two years. Trade, Transportation and Utilities has experienced the biggest growth since 2020, adding 5,800 jobs including 2,700 year-to-date. The Leisure and Hospitality sector continues to struggle to meet pre-pandemic employment levels, indicated 500 less jobs fulfilled than a year ago.
The Lancaster County Workforce Development Board often analyzes targeted zip codes to deploy needed workforce programs in the county. While the county as a whole is considered at full employment, data shows Lancaster City, which encompasses 27,000 workers as of July 2022, has a disproportionate share of the unemployment rate of 4.7% (1.3 thousand people, not seasonally adjusted).
Real-time job posting data obtained by LCWDB indicates that 3 of the top 10 positions in demand in Lancaster advertise openings at less than $16.24 an hour, a wage identified by the MIT Living Wage calculator as the living wage for a single adult, no children, living in Lancaster County.
Four of the ten jobs require post-secondary training. These include Registered Nurses, Licensed Practical Nurses, Medical and Health Service Managers, and Heavy and Tractor-Trailer Drivers. Maintenance and Repair Workers often need specialized training in facilities or industrial maintenance that can be accomplished through workforce programs, credentials, and/or apprenticeship. The other positions – retails sales, supervisors of retail sales, order fillers and stockers, fast food counter workers, and supervisors of food prep/servers do not require any post-secondary training.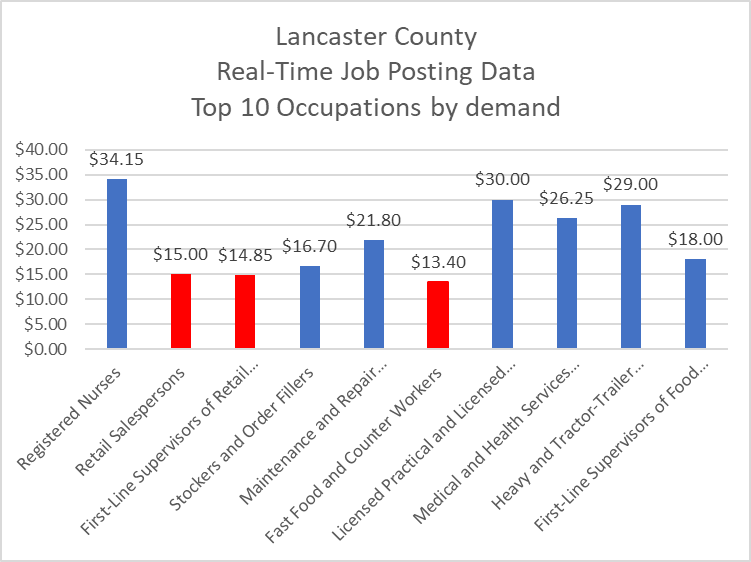 For more information, view the Workforce Information News Release and the Civilian Labor Force Packet for July 2022. To view the most up-to-date demographics, wage, and unemployment information, view the Lancaster County Profile.